candy

can·dy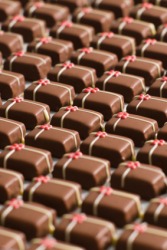 Rows of chocolate candies.
noun
The definition of candy is a sweet treat usually made with sugar.

Gumdrops and Snickers bars are an example of candy.
verb
To candy is defined as to cook with a sugar syrup, or to make into a crystal form.

When you use a sugar syrup to glaze yams, this is an example of when you candy yams.
---
candy
noun
pl.
-·dies
crystallized sugar made by boiling and evaporating cane sugar, syrup, etc.

a sweet food, usually in small pieces or bars, made mainly from sugar or syrup, with flavoring, fruit, chocolate, nuts, etc. added
a piece of such food

Informal

someone or something variously regarded as being frivolously or superficially desirable, attractive, pleasing, exciting, etc.: ear candy
Origin of candy
from
sugar candy
from Middle English
(sugre) candi
from Old French
(sucre) candi
from OIt (
zucchero) candi
from Arabic
qandi
from Persian
qand
, cane sugar; probably from Sanskrit
kha??a
, piece (of sugar)
transitive verb
-·died

,

-·dy·ing
to cook in or with sugar or syrup so as to glaze, encrust, or preserve
to crystallize into or like sugar
to sweeten; make pleasant
Origin of candy
Fr
candir
< It
candire
<
candi
: see the candynoun
---
candy
noun
pl.
can·dies
a. A rich sweet confection made with sugar and often flavored or combined with fruits or nuts.

b. A piece of such a confection.

Slang An illicit drug, especially one, such as cocaine, that has a sugary appearance or a drug in pill form, such as MDMA.
transitive verb
can·died, can·dy·ing, can·dies
To cook, preserve, saturate, or coat with sugar or syrup: candy apples; candy ginger.
Origin of candy
Middle English
candi
crystallized cane sugar
short for
sugre-candi
partial translation of
Old French
sucre candi
ultimately from
Arabic
sukkar qandī
sukkar
sugar
qandī
consisting of sugar lumps
(
from
qand
lump of crystallized sugar
) (
from
an Indic source akin to Pali
ka&nlowdot;&dlowdot;a-
) (
from
Sanskrit
kha&nlowdot;&dlowdot;akah
) (
from
kha&nlowdot;&dlowdot;ah
piece, fragment
) (
perhaps of Munda origin
)
---
candy

---