caper

ca·per
A pile of capers.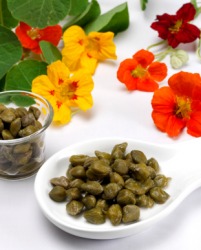 A dish of tangy capers.
noun
The definition of a caper is a pickled bud from a juniper bush, a playful skip or a trick.

An example of a caper is the tiny green ball used in the sauce served with veal piccata.
An example of a caper is a joyful hop.
An example of a caper is a senior prank.
verb
Caper means to skip in a playful manner.

An example of to caper is for children to joyfully skip down the street.
---
caper
to skip or jump about in a playful manner; frisk; gambol
Origin of caper
probably from capriole
a playful jump or leap
a wild, foolish action or prank

Slang

a criminal plan or act, esp. a robbery
cut a caper
or
cut capers
any of a genus (Capparis) of trees and shrubs of the caper family, esp. a prickly, trailing Mediterranean bush (C. spinosa) whose tiny, green flower buds are pickled and used to flavor sauces, etc.
bean caper

any of these buds
Origin of caper
Middle English
capar
,
capres
from Classical Latin
capparis
from Classical Greek
kapparis
designating a family (Capparaceae) of dicotyledonous plants (order Capparales), including the bee plant and cleome
---
caper
noun
A playful leap or hop.
A frivolous escapade or prank.
Slang An illegal plot or enterprise, especially one involving theft.
intransitive verb
ca·pered, ca·per·ing, ca·pers
To leap or frisk about; frolic.
Origin of caper
Alteration of
capriole
noun
A usually spiny Mediterranean shrub (Capparis spinosa) having white to pale lilac flowers and dehiscent fruits with reddish pulp.
A pickled flower bud of this plant, used as a pungent condiment in sauces, relishes, and various other dishes.
Origin of caper
Middle English
capar
ultimately
(
probably via back-formation from
earlier
caperis
caper bush
) (
taken as a plural with the ending
-s
)
from
Latin
capparis
from
Greek
kapparis
of unknown origin
---
caper

---