casserole

cas·se·role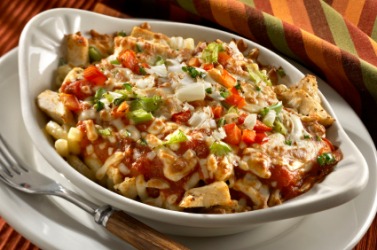 A pasta and chicken casserole.
noun
The definition of a casserole is a one pot meal cooked in the oven consisting of rice, potato or noodles, combined with vegetables and meat or fish in some type of sauce.

A combination of pasta, peas, tuna fish and cream of celery soup is an example of a casserole.
---
casserole
an earthenware or glass baking dish, usually with a cover, in which food can be cooked and then served
the food baked and served in such a dish, typically rice, potatoes, or macaroni together with meat or fish and vegetables

Chem.

a deep porcelain dish with a handle, used for heating or evaporating a substance
Origin of casserole
Fr, diminutive of
casse
, bowl, basin from Provençal
cassa
, melting pan from Vulgar Latin
cattia
from Classical Greek
kyathion
, diminutive of
kyathos
, bowl, cup
---
casserole
noun
a. A dish, usually of earthenware, glass, or cast iron, in which food is both baked and served.

b. Food prepared and served in such a dish.

Chemistry A small-handled, deep porcelain crucible used for heating and evaporating.
Origin of casserole
French
saucepan
diminutive of
Old French
casse
ladle, pan
from
Old Provençal
cassa
from
Medieval Latin
cattia
dipper
from
Greek
kuathion
diminutive of
kuathos
ladle
---
casserole

Noun
(plural casseroles)
Food, such as a stew, cooked in such a dish.
---