caviar
cavi·ar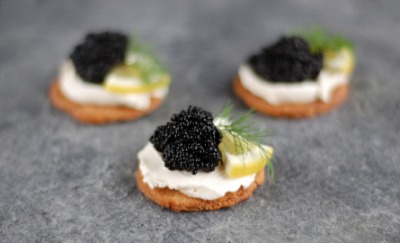 Toast and cream cheese topped with caviar.
noun
The definition of caviar is pickled or salted eggs of sturgeon or other large fish which is often eaten as an appetizer and is generally considered a delicacy.

Masses of eggs from a salmon that are spread on crackers and served in a very fancy restaurant is an example of caviar.
---
caviar
or cav′i·are·
the salted eggs of sturgeon, salmon, etc. eaten as an appetizer
Origin of caviar
French ; from Italian
caviale
; from Turkish
kh?vy?r
; from Persian
kh?viy?r
; from
kh?ya
, egg +
-d?r
, bearing: origin, originally , spawning fish, hence, roe
caviar to the general
a thing appealing only to a highly cultivated taste: Hamlet II, ii
---
caviar
also cav·i·are
noun
The roe of a large fish, especially sturgeon, that is salted, seasoned, and eaten as a delicacy or relish.
Origin of caviar
Alteration of earlier
caviarie
(probably from obsolete Italian
caviari
, pl. of
caviaro
) or from French
caviare
, both from Turkish
havyar
, from Persian
kh&amacron;viy&amacron;r
, probably from a Caspian Iranian dialect variant of Persian
kh&amacron;ya-d&amacron;r
,
egg-holding
(as in
m&amacron;h&imacron;-i kh&amacron;ya-d&amacron;r
,
egg-holding fish
) :
kh&amacron;ya
,
egg
(from Middle Persian
x&amacron;yag
; see
awi-
in Indo-European roots) +
-d&amacron;r
,
holder
; see
zamindar
.
---
caviar
Noun
(countable and uncountable, plural caviars)
Usage notes
A citation from Jehan Palsgrave's 1530 text Lesclarcissment de la langue françoyse reads "Calver of saulmon, escume de saulmon.". This possibly refers to caviar. If this is the case it predates by some 61 years the earliest usage (1591) of caviar documented in the Oxford English Dictionary.
---