consonance

con·so·nance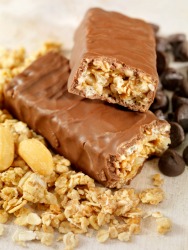 Chewy chocolate is an example of consonance.
noun
The definition of consonance is a pleasing combination of sounds or two things that are in agreement.

An example of consonance is when you have two words that both have a "ch" sound that are right next to each other in a sentence.
An example of consonance is when existing policies on tardiness are in agreement with the new policy on being late or absent.
---
consonance
harmony or agreement of elements or parts; accord
a pleasing combination of simultaneous musical sounds; harmony of tones

Prosody

repetition of a consonant sound in stressed syllables in the middle or at the end of words (Ex.: star/door, conceive/behoove)
Origin of consonance
Middle English and Old French from Classical Latin
consonantia
from
consonans,
present participle of
consonare,
to sound together with from
com-,
with +
sonare
from
sonus,
sound
---
consonance
noun
Agreement; harmony; accord.

a. Close correspondence of sounds.

b. The repetition of consonants or of a consonant pattern, especially at the ends of words, as in blank and think or strong and string.

Music A simultaneous combination of sounds not requiring resolution to another combination of sounds for finality of effect and conventionally regarded as harmonious or pleasing.
---
consonance

Origin
From Old French, from Latin consonantia
---