delicacy

del·i·ca·cy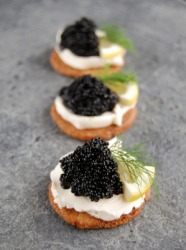 These caviar appetizers are a delicacy.
noun
Delicacy is defined as the state of being fragile, frail, soft or subtle, or refers to a gourmet food.

A person who is sickly and frail and who looks as if a strong wind would blow him over is an example of someone who would be described as having a delicacy about him.
A flower with a subtle, gentle beauty is an example of something with a delicacy.
Caviar is an example of a delicacy.
---
delicacy
the quality of being delicate as in taste, odor, or texture
fragile beauty or graceful slightness, softness, etc.; fineness: the delicacy of a petal, of spun glass, or of a child's face
weakness of constitution or health; frailty
the quality or condition of needing careful and deft handling: negotiations of great delicacy
fineness of feeling, observation, or appreciation: delicacy of musical taste
sensitiveness of response: the delicacy of a compass
fineness of touch, skill, etc.
a fine regard for the feelings of others
a sensitive or, sometimes, finicky distaste for what is considered improper or offensive
pl.

-·cies

a choice food: caviar and other delicacies

Obs.

luxuriousness
Origin of delicacy
Middle English
delicacie
from Medieval Latin
delicacia
from Classical Latin
delicatus
: see delicate
---
delicacy
noun
pl.
del·i·ca·cies
The quality of being delicate.
Something pleasing and appealing, especially a choice food.
Fineness of appearance, construction, or execution; elegance: brushwork of great delicacy.
Frailty of bodily constitution or health.
Sensitivity of perception, discrimination, or taste; refinement.

a. Sensitivity to the feelings of others; tact: phrased the apology with delicacy.

b. Sensitivity to what is proper; propriety.

c. Undue sensitivity to or concern with what may be considered offensive or improper; squeamishness: scenes that might offend a viewer's delicacy.

The need for tact in treatment or handling: a topic of some delicacy.
Sensitivity to very small changes; precision: the delicacy of a set of scales.
Origin of delicacy
Middle English
delicacie
from
delicat
delicate
; see
delicate
.
---
delicacy

Origin
From Middle English delicacie, from Middle English delicat, from Latin delicatus
---