diner

din·er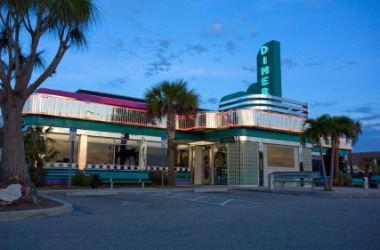 A roadside diner.
noun
The definition of a diner is a person who is eating in a restaurant, a casual roadside restaurant with booths and a counter that traditionally resembles the dining car on a train.

A person who is having a meal at a pizza restaurant is an example of a diner.
A casual laid-back restaurant on the roadside with a long counter, booths, a jukebox and a big menu of American food is an example of adiner.
---
diner
a person eating dinner
dining car
a small restaurant built to look like a dining car
a small restaurant with a counter along one side and booths on the other
---
diner
noun
One that dines: midnight diners enjoying the meal after the theater.
A dining car.
A small, usually inexpensive restaurant with a long counter and booths, sometimes housed in a building designed to resemble a dining car.
---
diner

Noun
(plural diners)
A small and inexpensive type of restaurant which is modelled to resemble a dining car.
A railroad dining car.
See also:
dîner
---