dish

dish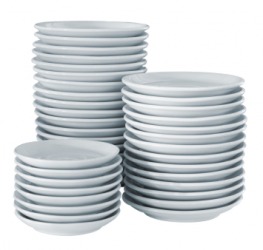 Stacks of dishes.
noun
The definition of a dish is a container used for holding and serving food.

An example of dish is a plate.

Dish is defined as a particular kind of prepared food.

An example of a dish is tuna casserole.
verb
To dish is defined as to serve food.

An example of to dish is spooning rice onto someone's plate.
---
dish
any container, generally rounded, shallow, and concave and of porcelain, earthenware, glass, plastic, etc. for serving or holding food
[pl.] plates, bowls, saucers, cups, etc., collectively

the food in a dish
a particular kind of food, or food prepared in a certain way: one's favorite dish

a dishful
a dish-shaped object

the reflector of a dish antenna
dish antenna

a dishlike concavity, or the amount of this

Informal

a favorite thing; preference

Slang

a sexually attractive person, esp. a young woman

Slang

gossip, esp. when disparaging or malicious: often with the
Origin of dish
Middle English from Old English
disc
, dish, plate from Proto-Germanic an unverified form
diskuz
from Classical Latin
discus
: see discus
to serve (food) in a dish: usually with up or out
to shape (an object, surface, or hole) like a dish: make concave: usually with out

Informal, Sports

to pass (a ball or puck) to a teammate: often with off

Slang

to gossip about, esp. in a disparaging way

Chiefly Brit., Slang

to cheat, frustrate, ruin, etc.
to be or become dish-shaped; cave in

Slang

to gossip, esp. disparagingly
dish it out
Slang
to subject others to difficulty, criticism, hardship, ridicule, etc.
---
dish
noun
a. An open, generally shallow concave container for holding, cooking, or serving food.

b. dishes The containers and often the utensils used when eating: took out the dishes and silverware; washed the dishes.

c. A shallow concave container used for purposes other than eating: an evaporating dish.

The amount that a dish can hold.

a. The food served or contained in a dish: a dish of ice cream.

b. A particular variety or preparation of food: Sushi is a Japanese dish.

a. A depression similar to that in a shallow concave container for food.

b. The degree of concavity in such a depression.

Electronics A dish antenna.
Slang A good-looking person, especially an attractive woman.
Informal Idle talk; gossip: "plenty of dish about her tattoos, her plastic surgeries, and her ever-younger inamorati" ( Louise Kennedy )
verb
dished, dish·ing, dish·es
verb
transitive
To serve (food) in or as if in a dish: dished up the stew.
To present: dished up an excellent entertainment.
To hollow out; make concave.
Informal To gossip about.
Chiefly British Slang To ruin, foil, or defeat.
verb
intransitive
Informal
To talk idly, especially to gossip.
Phrasal Verbs:
dish out
To dispense freely:
likes to dish out advice.
Origin of dish
Middle English
from
Old English
disc
from
Latin
discus
; see
disk
.
---
dish

Noun
(plural dishes)
A vessel such as a plate for holding or serving food, often flat with a depressed region in the middle.
The contents of such a vessel.

a dish of stew

A specific type of prepared food.

a vegetable dish
this dish is filling and easily made

(in the plural) Tableware (including cutlery, etc, as well as crockery) that is to be or is being washed after being used to prepare, serve and eat a meal.

It's your turn to wash the dishes.

(slang) A sexually attractive person.
A hollow place, as in a field.

(mining) That portion of the produce of a mine which is paid to the land owner or proprietor.
Verb
(third-person singular simple present dishes, present participle dishing, simple past and past participle dished)
Origin
From Old English disc from West Proto-Germanic *diskaz, cognate with Latin discus. Cognate with Dutch disch ("table"), German Tisch ("table").
---
dish - Computer Definition
---