excite

ex·cite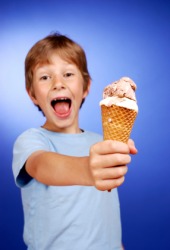 You can excite a child by offering him ice cream.
verb
Excite is defined as to stir up emotions, action or strong reactions.

An example of excite is telling a group of children they're going to get ice cream.
An example of excite is a fire engine with sirens blaring while driving past a house with many dogs.
---
excite
transitive verb
-·cit′ed

,

-·cit′ing
to put into motion or activity; stir up: tapping on the hive excited the bees
to call forth; arouse; provoke: the rumors excited her curiosity
to arouse the feelings or passions of: the news excited us

Elec.

to supply electric current to (the field winding of a motor, generator, or other device)
to thus produce a magnetic field in
to supply a signal to (any stage of a vacuum-tube or transistor circuit)

Physics

to raise (a nucleus, atom, etc.) to a higher energy state

Physiol.

to produce or increase the response of (an organism, organ, tissue, etc.) to a proper stimulus
Origin of excite
Middle English
exciten
from Old French
exciter
from Classical Latin
excitare
, to call forth, excite, frequentative of
exciere
, to call forth from
ex-
, out + past participle of
ciere
, to call, summon: see cite
---
excite
transitive verb
ex·cit·ed, ex·cit·ing, ex·cites
a.

To arouse strong feeling in:

The speaker excited the crowd.

See Synonyms at

provoke

.

b. To arouse (someone) sexually.

c. To elicit or arouse (a reaction or emotion, for example): odd noises that excited our curiosity.

a. To cause to become more active: Lowering interest rates should excite the economy.

b. Physiology To produce increased activity or response in (an organ, tissue, or part); stimulate.

c. Physics To raise (an atom, for example) to a higher energy level.
Origin of excite
Middle English
exciten
from
Latin
excitāre
frequentative of
exciēre
ex-
ex-
ciēre
to set in motion
; see
keiə-
in Indo-European roots.
---
excite

Verb
(third-person singular simple present excites, present participle exciting, simple past and past participle excited)
To arouse or bring out (eg feelings); to stimulate.

Favoritism tends to excite jealousy in the ones not being favored.
The political reforms excited unrest among to population.
There are drugs designed to excite certain nerves in our body.
Origin
From Middle English exciten, from Old French exciter, from Latin excitare ("call out, call forth, arouse, wake up, stimulate"), frequentative of exciere ("call out, arouse excite"), from ex ("out") + ciere ("call, summon"). See cite and compare to accite, concite, incite.
See also:
excité
---
excite - Computer Definition
(Excite.com, Irvington, NY, www.excite.com) One of the major search engines on the Web founded in 1995 and part of IAC Search & Media. Excite was acquired by Ask Jeeves, Inc. in 2004, which was acquired by IAC in 2005. See Web search engines.
---