extreme

ex·treme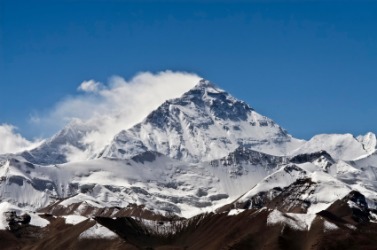 Mount Everest is an example of extreme height.
adjective
The definition of extreme is most remote or far from what is necessary or usual.

An example of extreme is a fever of 104.
noun
An extreme is defined as something which is the farthest or highest, or things that are very different or far apart from one another.

An example of extreme is the top of Mount Everest.
An example of extreme is the range of feelings from depressed to very joyful.
---
extreme
at the end or outermost point; farthest away; most remote; utmost

in or to the greatest degree; very great or greatest: extreme pain
to an excessive degree; immoderate

far from what is usual or conventional
deviating to the greatest degree from the center of opinion, as in politics
very severe; drastic: extreme measures
designating or of sports that involve high speeds, unusually risky actions, and considerable exposure to physical injury

Archaic

last; final
Origin of extreme
Middle English and Old French from Classical Latin
extremus
, last, outermost, superlative of
exterus
, outer: see external
either of two things that are as different or far as possible from each other
an extreme degree
an extreme act, expedient, etc.
an extreme state or condition: an extreme of distress

Obs.

an extreme point; extremity

Math.

the first or last term of a proportion
extremum
go to extremes
to be excessive or immoderate in speech or action
---
extreme
adjective
Most remote in any direction; outermost or farthest: the extreme edge of the field.
Being in or attaining the greatest or highest degree; very intense: extreme pleasure; extreme pain.
Being far beyond the norm: an extreme conservative. See Synonyms at excessive.
Of the greatest severity; drastic: took extreme measures to conserve fuel.
Biology

a. Characterized by severe, usually oxygen-poor environmental conditions.

b. Having an affinity for such conditions: an extreme microorganism.

Sports

a. Very dangerous or difficult: extreme rafting.

b. Participating or tending to participate in a very dangerous or difficult sport: an extreme skier.

Archaic Final; last.
noun
The greatest or utmost degree or point.
Either of the two things situated at opposite ends of a range: the extremes of boiling and freezing.
An extreme condition.
An immoderate, drastic expedient: resorted to extremes in the emergency.
Mathematics

a. The first or last term of a ratio or a series.

b. A maximum or minimum value of a function.

Logic The major or minor term of a syllogism.
Origin of extreme
Middle English
from
Old French
from
Latin
extrēmus
; see
eghs
in Indo-European roots.
Related Forms:
---
extreme

Adjective
(comparative extremer or more extreme, superlative extremest or most extreme)
Adverb
(comparative more extreme, superlative most extreme)
(archaic) Extremely.
Usage notes
Formerly used to modify adjectives and sometimes adverbs, but rarely verbs.
Origin
From Old French extreme, from Latin extremus, the superlative of exterus
---