fox

Fox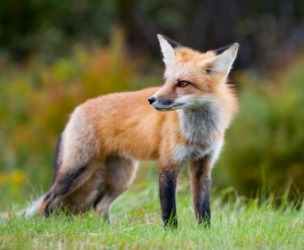 A wild fox.
noun
The definition of a fox is a small, wild canine with a red/brown/grayish fur and a bushy tail, or a deceitful person, or a woman who is very attractive.

An example of a fox is the Arctic Fox.
An example of a fox is someone who is always tricking others.
An example of a fox is a gorgeous woman.
verb
Fox is defined as to make something sour by fermenting, or to stain paper red/brown/yellowish, or to trick.

An example of fox is to make something like beer become sour by fermenting; to fox the beer.
An example of fox is when mildew causes a book to become marked with red stains; to fox the book with mildew stains.
An example of fox is to play a practical joke on someone; to fox someone with a practical joke.
---
fox
noun
pl.

fox′es

or
any of various small, wild canines (esp. genera Vulpes or Urocyon) with bushy tails and, commonly, reddish-brown or gray fur: the fox is conventionally thought of as sly and crafty
the fur of a fox
a sly, crafty, deceitful person

Origin of fox

concept from "The Fox and the Hedgehog," essay by Sir Isaiah Berlin (1907–97), Brit philosopher & historian, born in Russia: in ref. to phr. "the fox knows many things, but the hedgehog knows one big thing," transl. of fragment attributed to Gr poet Archilochus (fl. 7th c. ) a person regarded as being of a type characterized by wide-ranging knowledge and by adherence to no particular viewpoint or philosophy

Slang

a person, esp. a woman, who is attractive, esp. sexually attractive
Origin of fox
Middle English from OE, akin to German
fuchs
from Germanic base an unverified form
fuh-
from Indo-European base an unverified form
pu?-
, thick-haired, bushy from source Sanskrit
púccha
, tail
to make (beer, etc.) sour by fermenting

Origin of fox

from the color of a fox to cause (book leaves, prints, etc.) to become stained with reddish-brown or yellowish discolorations
to trick or deceive by slyness or craftiness
to bewilder or baffle

to repair (boots, shoes, etc.) with new upper leather
to trim (the upper of a shoe) with leather

Obs.

to intoxicate
to become sour: said of beer, etc.
to become stained: said of book leaves, etc.
Fox
a member of a North American Indian people formerly living in Wisconsin and Illinois, now living in Iowa
the Algonquian language spoken by the Fox, Sauk, and Kickapoo peoples; esp., the dialect spoken by the Fox
Origin of Fox
translated, translation of French
Renard
, which is translated, translation of Huron
Skenchiohronon
, literally , red-fox people (prob. with reference, refer to a clan or moiety; compare the modern clan name
waakosheehaki
, literally , foxes)
Fox
1749-1806; Eng. statesman & orator

1624-91; Eng. religious leader: founder of the Society of Friends
---
fox
noun
pl. fox·es, also fox

a. Any of various carnivorous mammals of the family Canidae and especially of the genus Vulpes, found worldwide and characteristically having upright ears, a pointed snout, and a long bushy tail.

b. The fur of one of these mammals.

A crafty, sly, or clever person.
Slang A sexually attractive person.
Nautical Small cordage made by twisting together two or more strands of tarred yarn.
Archaic A sword.
verb
foxed, fox·ing, fox·es
verb
transitive
To trick or fool by ingenuity or cunning; outwit.
To baffle or confuse.
To make (beer) sour by fermenting.
To repair (a shoe) by attaching a new upper.
Obsolete To intoxicate.
verb
intransitive
To act slyly or craftily.
To turn sour in fermenting. Used of beer.
Origin of fox
Middle English
from
Old English
Fox
noun
pl.
Fox,
or
Fox·es
A member of a Native American people formerly inhabiting various parts of southern Michigan, southern Wisconsin, northern Illinois, and eastern Iowa, with present-day populations in central Iowa and with the Sauk in Oklahoma.
The Algonquian language of the Fox.
Origin of Fox
Translation of
French
Renards
foxes
perhaps translation of
Fox
wa·koše·haki
foxes (applied as a name to a clan with the totem of a fox)
---
fox

---