freak

freak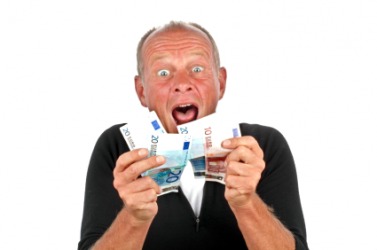 This man is about to freak.
noun
The definition of a freak is an unexpected event or a person who does not fit in with the mainstream.

An example of freak is a snowstorm in July.
An example of freak is an outcast who doesn't fit in with anyone and who everyone stays away from because they find them to be odd.
verb
Freak is defined as to act out or to cause someone to act in a wild manner or to become very upset, agitated or excited.

An example of freak is someone who is dancing around and shouting and screaming because he has just won the lottery.
An example of freak is when someone gets very angry and starts yelling and breaking things for little or no reason.
An example of freak is when you say something to someone that causes him to become upset and start yelling and acting overly excited.
---
freak
a sudden fancy; odd notion; whim
an odd or unusual happening

any abnormal animal, person, or plant; monstrosity

Slang

a user of a specified narcotic, hallucinogen, etc.: an acid freak
a devotee or buff: a reggae freak
hippie

Archaic

capriciousness

Philately

a postage stamp with an error that occurred in the printing or perforation process and is unique to the one stamp
Origin of freak
Early Modern English from uncertain or unknown; perhaps Old English
frician
, to dance (from source Middle English
freking
, whim, capricious conduct)
oddly different from what is usual or normal; odd; abnormal: freak weather
Slang
freak out (see phrase)
freak out
Slang
to experience, esp. in an extreme way, the mental reactions, hallucinations, etc. induced by a psychedelic drug
to make or become very excited, distressed, disorganized, etc.
Origin of freak
ultimately from Indo-European an unverified form
(s)p(h)ereg-
from source freckle
---
freak
noun
A thing or occurrence that is markedly unusual or irregular: A freak of nature produced the midsummer snow.
An abnormally formed organism, especially one regarded as a curiosity.
A sudden capricious turn of mind; a whim: "The freaks of the psyche can no more be explained than the Devil" ( Maurice Collis )
Slang

a. A drug user or addict: a speed freak.

b. An eccentric or nonconformist person, especially a member of a counterculture.

c. An enthusiast: rock music freaks.
adjective
Highly unusual or irregular: a freak accident; a freak storm.
intr. & tr.v.
freaked, freak·ing, freaks
Slang
To experience or cause to experience frightening hallucinations or feelings of paranoia, especially as a result of taking a drug. Often used with out.
To behave or cause to behave irrationally and uncontrollably. Often used with out.
To become or cause to become greatly excited or upset. Often used with out.
Origin of freak
Origin unknown
noun
A fleck or streak of color.
transitive verb
freaked, freak·ing, freaks
To speckle or streak with color: "the white Pink, and the Pansy freaked with jet" ( John Milton )
Origin of freak
From
freak
1
---
freak

---