grant

grant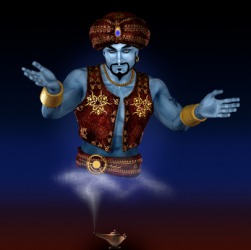 A genie will grant you three wishes.
noun
The definition of a grant is something given for a particular purpose.

An example of grant is a type of funding a student receives from the government to attend college.
verb
Grant is defined as to give something that has been requested to someone.

An example of grant is for a genie to give a person three wishes.
An example of grant is for a parent to give her child permission to stay out later than usual.
---
grant
to give (what is requested, as permission, etc.); assent to; agree to fulfill

to give or confer formally or according to legal procedure
to transfer (property) by a deed

to acknowledge for the sake of argument; admit as true without proof; concede
Origin of grant
Middle English
granten
from Old French
graanter, craanter
, to promise, assure from Vulgar Latin an unverified form
credentare
, to promise, yield from Classical Latin
credens
, present participle of
credere
, to believe: see creed
the act of granting
something granted, as property, a tract of land, an exclusive right or power, money from a fund, etc.
a territorial subdivision in Maine, New Hampshire, or Vermont
take for granted
to consider as true, already settled, requiring no special attention, etc.; accept as a matter of course
Grant
Grant
(born Archibald Leach) 1904-86; U.S. film actor, born in England

(born Hiram Ulysses Grant) 1822-85; 18th president of the U.S. (1869-77): commander in chief of Union forces in the Civil War
---
grant
transitive verb
grant·ed, grant·ing, grants
To allow or consent to the fulfillment of (something requested): grant permission to speak frankly; grant a request.

a. To give or confer officially or formally: grant voting rights to citizens; grant diplomatic immunity.

b. To transfer (property) by a deed.

To concede; acknowledge: I grant that your plan is ingenious, but you still will not find many backers.
noun
The act of granting.

a. Something granted, especially a giving of funds for a specific purpose: federal grants for medical research.

b. The document or provision in a document by which a grant is made.

One of several tracts of land in New Hampshire, Maine, and Vermont originally granted to an individual or a group.
Origin of grant
Middle English
granten
from
Old French
granter
variant of
creanter
from
Vulgar Latin
crēdentāre
to assure
from
Latin
crēdēns
crēdent-
present participle of
crēdere
to believe
; see
kerd-
in Indo-European roots.
Related Forms:
---
grant

---
grant - Legal Definition
n
v
A transaction in which a grantor transfers a subset of his or her own rights in property; the rights so transferred.
To transfer rights in real or personal property; in litigation, accession by the court to a party's request made by motion or pleading.
---