gymnasium

gym·na·si·um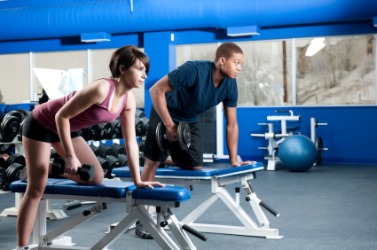 Two people working out at a gymnasium.
noun
The definition of a gymnasium is a room in a building meant for sports or athletic activities.

An example of a gymnasium is the room in a school where kids go for physical education and get to play basketball and other sports.
---
gymnasium
noun
pl.

-·si·ums

or

-·sia
a room or building equipped for physical training and athletic games and sports
[G-] in Germany and some other European countries, a secondary school for students preparing to enter a university
Origin of gymnasium
Classical Latin from Classical Greek
gymnasion
, place for exercising from
gymnazein
, to train naked from
gymnos
, naked, stripped from Indo-European base an unverified form
nogw-
from source naked, Classical Latin
nudus
---
gymnasium
noun
pl.
gym·na·si·ums,
or
gym·na·si·a
Sports
A room or building equipped for indoor sports.
An academic high school in some central European countries, especially Germany, that prepares students for the university.
Origin of gymnasium
Latin
school
from
Greek
gumnasion
from
gumnazein
to exercise naked
from
gumnos
naked
; see
nogw-
in Indo-European roots.
---
gymnasium

Noun
(plural gymnasia or gymnasiums)
A large room or building for indoor sports.
A type of secondary school in some European countries which typically prepares students for university.
Origin
From Latin gymnasium, from Ancient Greek γυμνάσιον (gumnasion, "exercise, school"), from γυμνός (gumnos, "naked"), because Greek athletes trained naked.
---