haunt

haunt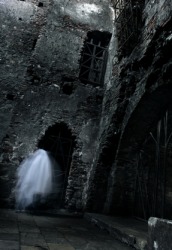 A ghosts haunts this castle.
verb
To haunt is defined as to appear as a ghost, or to visit or appear often.

An example of to haunt is seeing visions of a relative who has passed every time you're in their bedroom.
An example of to haunt is going to the same cafe for lunch every day.
An example of to haunt is stalking someone.
---
haunt
to visit (a place) often or continually; frequent
to seek the company or companionship of; run after
to appear or recur repeatedly to, often to the point of obsession: memories haunted her
to be associated with; fill the atmosphere of; pervade: memories of former gaiety haunt the house
Origin of haunt
Middle English
haunten
from Old French
hanter
, to frequent from Germanic an unverified form
haimetan
(akin to Old English
hamettan
, to domicile) from an unverified form
haim
, home
a place often visited: to make the library one's haunt
a lair or feeding place of animals

Dial.

a ghost
---
haunt
verb
haunt·ed, haunt·ing, haunts
verb
transitive
To inhabit, visit, or appear to in the form of a ghost or other supernatural being.
To visit often; frequent: haunted the movie theaters.
To come to the mind of continually; obsess: a riddle that haunted me all morning.
To be continually present in; pervade: the melancholy that haunts the composer's music.
verb
intransitive
To recur or visit often, especially as a ghost.
noun
A place much frequented.
also hant or ha'nt or haint Chiefly Southern US A ghost or other supernatural being.
Origin of haunt
Middle English
haunten
to frequent
from
Old French
hanter
; see
tkei-
in Indo-European roots.
Related Forms:
---
haunt

Verb
(third-person singular simple present haunts, present participle haunting, simple past and past participle haunted)
To inhabit, or visit frequently (most often used in reference to ghosts).

A couple of ghosts haunt the old, burnt-down house.

(UK dialectal, Northern England, Scotland) To practise; to devote oneself to.
(intransitive) To persist in staying or visiting.
Noun
(plural haunts)
A place at which one is regularly found; a hangout.
(dialect) A ghost.
A feeding place for animals.
Origin
From Middle English haunten ("to reside, inhabit, use, employ"), from Old French hanter ("to inhabit, frequent, resort to"), of Germanic origin, probably through Gothic *[script?] (haimatjan, "to lead home"), from Proto-Germanic *haimatjaną ("to house, bring home"), from Proto-Germanic *haimaz ("village, home"), from Proto-Indo-European *kōim- ("village"). Cognate with Old English hāmettan ("to provide housing to, bring home"), Old Norse heimta ("to bring home, fetch") (Swedish hämta); related to Old English hām ("home, village"), Old French hantin ("a stay, a place frequented by") from the same Germanic source. More at home.
---