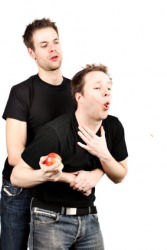 A man administers the Heimlich maneuver to another.
noun
The Heimlich maneuver is defined as an emergency procedure that dislodges an obstruction in the windpipe by applying strong pressure on a person's abdomen.

When your friend is choking on his steak and you put your arms around him and apply quick bursts of pressure to the abdomen area to dislodge the food, this is an example of the Heimlich maneuver.
---
Heimlich maneuver
an emergency technique used to dislodge an object stuck in the windpipe: air is forced up the windpipe by applying sudden, sharp pressure to the abdomen just below the rib cage
Origin of Heimlich maneuver
after H. J.
Heimlich
(b. 1920), United States surgeon
---
Heimlich maneuver
noun
An emergency technique used to eject an object, such as food, from the trachea of a choking person. The technique employs a firm upward thrust just below the rib cage to force air from the lungs, thereby dislodging the obstruction.
Origin of Heimlich maneuver
After Henry Jay
Heimlich
(born 1920), American surgeon
---
heimlich-maneuver

Origin
Named after physician Henry Heimlich who described the procedure in 1974.
---