inclement

in·clem·ent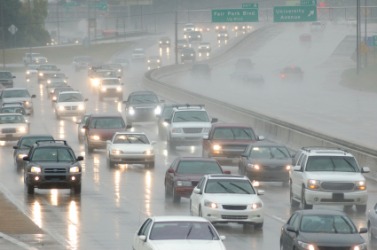 Rush hour traffic in inclement weather.
adjective
The definition of inclement is cold, wet or unpleasant weather.

A blizzard is an example of inclement weather.
---
inclement
rough; severe; stormy: inclement weather
lacking mercy or leniency; harsh
Origin of inclement
Classical Latin
inclemens
: see in- and clement
---
inclement
adjective
Stormy: inclement weather.
Showing no clemency; unmerciful.
Related Forms:
---
inclement

Adjective
(comparative more inclement, superlative most inclement)
1922, Ben Travers, chapter 4, A Cuckoo in the Nest:

By some paradoxical evolution rancour and intolerance have been established in the vanguard of primitive Christianity. Mrs. Spoker, in common with many of the stricter disciples of righteousness, was as inclement in demeanour as she was cadaverous in aspect.

(archaic) Unmercifully severe in temper or action.
Origin
From Latin inclēmēns ("unmerciful, severe"), from in- ("not") + clementem ("mild, placid").
---