jockey

jock·ey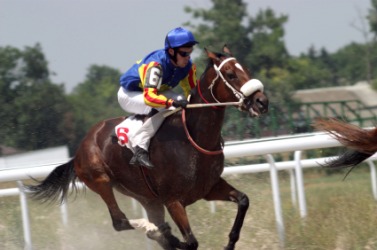 A jockey during a race.
noun
Jockey is defined as a person who rides a horse in a race.

An example of a jockey is a person competing in the Triple Crown.
verb
The definition of jockey is to ride a horse in a race, or to change position to get an advantage.

An example of jockey is to push your way to the front of a line.
---
jockey
noun
pl.
-·eys
a person whose work is riding horses in races

Slang

one who operates a specified vehicle, machine, etc.
Origin of jockey
from
Jocky, Jockie,
northern Eng and Scottish form of
Jacky,
diminutive of jack
transitive verb
intransitive verb
-·eyed

,

-·ey·ing
to ride (a horse) in a race
to cheat; trick; swindle

to maneuver for position or advantage
to bring about by such maneuvering

Slang

to be the operator, pilot, etc. (of)
---
jockey
noun
pl.
jock·eys
Sports One who rides horses in races, especially as a profession.
Informal One whose occupation or hobby involves a specified machine, device, or object: a computer jockey; a desk jockey.
verb
jock·eyed, jock·ey·ing, jock·eys
verb
transitive
Sports To ride (a horse) as jockey.
To direct or maneuver by cleverness or skill: jockeyed the car into a tight space.
To trick; cheat.
verb
intransitive
Sports To ride a horse in a race.
To maneuver for a certain position or advantage: jockeying for a promotion.
To employ trickery.
Origin of jockey
Diminutive of
Scots
Jock
variant of
Jack
; see
jack
.
---