kitchen

kitch·en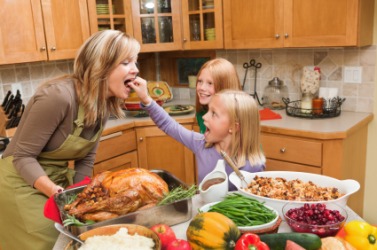 Mother and daughters cooking in the kitchen.
noun
The definition of kitchen is a room or area a home or building where food is cooked or prepared.

An example of a kitchen is the room in your home that has a stove, refrigerator and cabinets for storing food.
---
kitchen
a room or place or the equipment for the preparation and cooking of food
a staff that cooks and serves food
Origin of kitchen
Middle English
kychene
from Old English
cycene
from Vulgar Latin
cocina, cucina:
see cuisine
---
kitchen
noun
A room or an area equipped for preparing and cooking food.
A style of cooking; cuisine: a restaurant with a fine French kitchen.
A staff that prepares, cooks, and serves food.
Origin of kitchen
Middle English
kichene
from
Old English
cycene
probably from
Vulgar Latin
cocīna
from
Late Latin
coquīna
from feminine of
Latin
coquīnus
of cooking
from
coquus
cook
from
coquere
to cook
; see
pekw-
in Indo-European roots.
---
kitchen

---