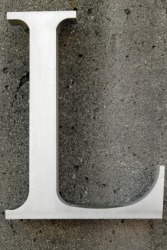 The letter L.
noun
The definition of l is the twelfth letter of the English alphabet.

An example of l is the first letter in the word "lamp."
---
l
or L
noun
pl.
the twelfth letter of the English alphabet: from the Greek lambda, a borrowing from the Phoenician
any of the speech sounds that this letter represents, as, in English, the (l) of love
a type or impression for l or L
the twelfth in a sequence or group
an object shaped like
of l or L
twelfth in a sequence or group
shaped like
land
large
latitude
law
leaf
league
left
length
line
link
lira; lire
liter(s)
long
loss(es)
L
noun
pl.
L's
an extension of a building that gives the whole a shape resembling ; ell
a Roman numeral for 50: with a superior bar (?), 50,000

Origin of L

for el, short for elevated an elevated railroad
L
lake
lambert(s)
large

Physics

latent heat
Latin
left
length

Football

lineman
lira; lire
liter(s)
lobby
longitude
loss(es)
low

Rom. History

Lucius (the praenomen)
L
Avogadro constant

Elec.

inductance

Origin of L

Classical Latin libra, plural librae[sometimesl-]

Brit.

pound(s) sterling: now usually £
l-
Chem.
levorotatory: usually printed in italic type
[l-
limonene
]
or symbolized by a minus sign (?)
L-
Chem.
having an asymmetrical, left-handed spatial arrangement of atoms: usually printed as a small capital:
-glucose
---
l
or L
noun
pl.
l's,
or
L's
also
ls
or
Ls
The 12th letter of the modern English alphabet.
Any of the speech sounds represented by the letter l.
The 12th in a series.
Something shaped like the letter L.
dollar bill, United States silver certifi cate
Th is 1923-series silver certifi cate was redeemable on demand for one dollar in silver.
L
also l
The symbol for the Roman numeral 50.
L
abbreviation
lambert
large
left
or l liter
Sports loss
low
l.
L.
abbreviation
lake
Latin
licentiate
Linnaean
l-
L-
In biochemistry, a symbol used as a prefix to indicate the spatial configuration of certain organic compounds with asymmetric carbon atoms. It is used if an organic compound has a configuration about an asymmetric carbon atom analogous to that of L-glyceraldehyde (the arbitrarily chosen standard), in which the hydroxy (OH) functional group is on the left side of the asymmetric carbon atom in a Fischer projection formula: an L-amino acid.
Origin of L-
From
l(evorotatory)
---
l

Letter
(lower case, upper case L)
Number
(lower case, upper case L)
Abbreviations
(chemistry, physics, astronomy) Lyman alpha or Lyman-alpha
---
l - Computer Definition

---

Chat room talk for "laugh."
---