leak

leak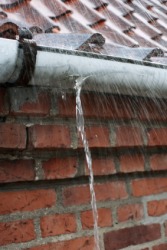 A gutter with a leak.
verb
Leak is defined as to let out or get out by mistake or on purpose.

An example of to leak is juice coming out of a crack in a plastic jug.
An example of to leak is private information being released to the media.
---
leak
to let a fluid substance out or in accidentally: the kettle leaks; the boat leaks
to enter, or escape accidentally from, an object or container: often with in or out
to become known little by little, by accident, carelessness, or treachery: the truth leaked out
Origin of leak
Middle English
leken
from Old Norse
leka
, to drip from Indo-European base an unverified form
leg-
, to drip, trickle, lack, Old Irish
legaim
, (I) dissolve, Welsh
llaith
, damp
to permit (water, air, light, radiation, etc.) to pass accidentally in or out; allow to leak
to allow (secret or confidential information) to become known
an accidental hole or crack that lets something out or in
any means of escape for something that ought not to be let out, lost, etc.
the fact of leaking; leakage
a disclosure of secret or confidential information; specif., an ostensibly accidental disclosure by a government official to the news media, actually intended to produce an effect

a loss of electrical current through faulty insulation
the point or path where this occurs

Slang

the act of urinating: usually in the phrase

take a leak
---
leak
verb
leaked, leak·ing, leaks
verb
intransitive
To permit the escape, entry, or passage of something through a breach or flaw: rusted pipes that were beginning to leak; a boat leaking at the seams.
To escape or pass through a breach or flaw: helium leaking slowly from the balloon.
To become publicly known through a breach of secrecy: The news has leaked.
verb
transitive
To permit (a substance) to escape or pass through a breach or flaw: a damaged reactor leaking radioactivity into the atmosphere.
To disclose without authorization or official sanction: leaked classified information to a reporter.
noun
A crack or flaw that permits something to escape from or enter a container or conduit: fixed the leak in the roof.

a. The act or instance of leaking.

b. An amount leaked: equipment used in cleaning up oil leaks.

An unauthorized or a deliberate disclosure of confidential information: "Sometimes we can't respond to stories based on leaks" ( Ronald Reagan )

a. Loss of electric current as a result of faulty insulation.

b. The path or place at which this loss takes place.
Origin of leak
Middle English
leken
probably from
Middle Dutch
lēken
Related Forms:
---
leak

Noun
(plural leaks)
A crack, crevice, fissure, or hole which admits water or other fluid, or lets it escape.

a leak in a roof
a leak in a boat
a leak in a gas pipe

The entrance or escape of a fluid through a crack, fissure, or other aperture.

The leak gained on the ship's pumps.

A divulgation, or disclosure, of information held secret until then.

The leaks by Chelsea Manning showed the secrets of the US military.

The person through whom such divulgation, or disclosure, occurred.

The press must have learned about the plan through a leak.

(computing) The gradual loss of a system resource caused by failure to deallocate previously reserved portions.

resource leak
memory leak

(vulgar, slang, especially with the verb "take") An act of urination.

I have to take a leak.
Verb
(third-person singular simple present leaks, present participle leaking, simple past and past participle leaked)
To allow fluid to escape or enter something that should be sealed.

The faucet has been leaking since last month.

To reveal secret information.

Someone must have leaked it to our competitors that the new product will be out soon.
Adjective
(comparative more leak, superlative most leak)
(obsolete) Leaky.
Origin
From Middle English leken ("to let water in or out"), from Middle Dutch leken ("to leak, drip") or Old Norse leka ("to leak, drip"); both from Proto-Germanic *lekanÄ… ("to leak, drain"), from Proto-Indo-European *leg-, *leǵ- ("to leak"). Cognate with Dutch lekken ("to leak"), German lechen, lecken ("to leak"), Swedish läcka ("to leak"), Icelandic leka ("to leak"). Related also to Old English leÄ‹Ä‹an ("to water, wet"), Albanian lag, lak ("I damp, make wet"). See also leach, lake.
---