miniature

min·i·a·ture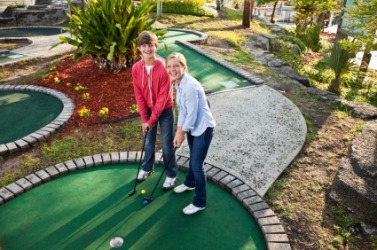 Teenagers playing miniature golf.
adjective
Miniature is defined as much smaller in scale or size.

An example of miniature used as an adjective is the phrase "miniature golf" which means a golf course that is much smaller than a regular one.
noun
The definition of a miniature is a copy of something that is much smaller than the original.

An example of a miniature is a tiny silver replica of a horse.
---
miniature
a small painting or illuminated letter, as in a medieval manuscript

a very small painting, esp. a portrait, done on ivory, vellum, etc.
the art of making such paintings

a copy or model on a very small scale
a breed of animal or plant much smaller than the ordinary or traditional type
Origin of miniature
Italian
miniatura,
rubrication, illumination of manuscripts from Medieval Latin from past participle of Classical Latin
miniare,
to paint red from
minium,
red lead (see minium): sense influenced, influence by Classical Latin
minutus,
minute
on or done on a very small scale; diminutive; minute
in miniature
on a small scale; greatly reduced
---
miniature
noun
a. A copy or model that represents or reproduces something in a greatly reduced size.

b. Something small of its class.

a. A small painting executed with great detail, often on a surface such as ivory or vellum.

b. A small portrait, picture, or decorative letter on an illuminated manuscript.

c. The art of painting miniatures.
adjective
Greatly reduced in size or scale. See Synonyms at
small
.
Origin of miniature
Italian
miniatura
illumination of manuscripts, small painting
from
miniare
to illuminate
from
Latin
miniāre
to color red
from
minium
cinnabar, red lead (often used to adulterate cinnabar)
probably of pre-Roman Iberian origin (since the Romans obtained most of their cinnabar from Spain)
Minius
ancient Roman name of the Miño (Minho) River of Galicia and northern Portugal
Related Forms:
---
miniature

Noun
(plural miniatures)
Greatly diminished size or form; reduced scale.
A small version of something; a model of reduced scale.

There was a miniature of a whaling ship in a glass bottle over the mantlepiece.

A small, highly detailed painting, a portrait miniature.
The art of painting such highly detailed miniature works.
An illustration in an illuminated manuscript.
A musical composition which is short in duration.

Sacha composed a miniature for strings as a final project at the conservatory.

(gaming) A token in a game representing a unit or character.

Jack had dozens of miniatures of Napoleonic footsoldiers painted in detailed period regalia for his wargames.

Lettering in red; rubric distinction.
A particular feature or trait.
Adjective
(comparative more miniature, superlative most miniature)
---