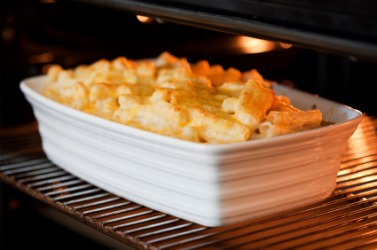 Food being baked in an ovenproof dish.
adjective
The definition of ovenproof is cookware or materials that are heat resistant and that can be used in an oven without cracking or shattering.

A Pyrex dish that you can put in an oven is an example of an ovenproof baking dish.
---
ovenproof
able to withstand the high temperatures of an oven without breaking, burning, melting, etc.:
an ovenproof baking pan
---
ovenproof
---
ovenproof

Adjective
(not comparable)
Origin
From oven +"Ž -proof
---