Polish

Po·lish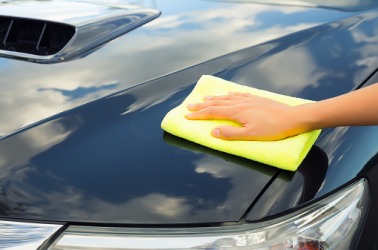 Polishing a car with a soft cloth.
adjective
The definition of Polish is related to the country of Poland.

An example of Polish is the Polish culture.
noun
Polish is a substance used for making something glossy, or a style of elegance and grace, or the smoothness and glossiness of a surface.

An example of polish is a liquid color used on finger nails.
An example of polish is a polite and cultured person.
verb
Polish is defined as to rub until smooth and shiny, use a substance or wax on a surface to make it glossy, or to improve the condition.

An example of polish is buffing fingernails until smooth.
An example of polish is using wax on a car's paint to make it shiny.
An example of polish is fine tuning your Photoshop skills.
---
polish
to smooth and brighten, as by rubbing
to coat with polish, wax, etc. and make bright or glossy

to improve or refine (someone or someone's manners, appearance, etc.) as by removing crudeness or vulgarity
to complete or embellish (a piece of writing, etc.); finish; perfect
Origin of polish
Middle English
polischen
from inflected stem of Old French
polir
from Classical Latin
polire
, to polish, probably from Indo-European base an unverified form
pel-
, to drive, impel from source felt
to take a polish; become glossy, elegant, or refined
a surface gloss
elegance, refinement, cultivation, finish, or the like
a substance used for polishing
the act of polishing or condition of being polished
polish off
Informal
to finish (a meal, job, etc.) completely and quickly
to overcome or get rid of (a competitor, enemy, etc.)
polish up
Informal
to improve (something)
Polish
of Poland or its people, language, or culture
Origin of Polish
from Pole + -ish
the West Slavic language spoken in Poland
---
polish
verb
pol·ished, pol·ish·ing, pol·ish·es
verb
transitive
To make smooth and shiny by rubbing or chemical action.
To remove the outer layers from (grains of rice) by rotation in drums.
To refine or remove flaws from; perfect or complete: polish one's piano technique; polish up the lyrics.
verb
intransitive
To become smooth or shiny by being rubbed: The table polishes up nicely.
noun
Smoothness or shininess of surface or finish.
A substance containing chemical agents or abrasive particles and applied to smooth or shine a surface: shoe polish.
The act or process of polishing: gave the lamp a polish.
Elegance of style or manners; refinement.
Phrasal Verbs:
polish off
Informal
To finish or dispose of quickly and easily.
Origin of polish
Middle English
polisshen
from
Old French
polir
poliss-
from
Latin
polīre
; see
pel-
5
in Indo-European roots.
Related Forms:
Polish
adjective
Of or relating to Poland, the Poles, their language, or their culture.
noun
The Slavic language of the Poles.
---
polish

---