shock

shock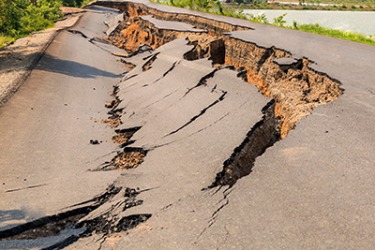 The shock of the earthquake caused the road to collapse.
noun
The definition of a shock is a sudden powerful disturbance, shake or blow.

An example of a shock is the electrical jolt felt when taking a polyester shirt out of the dryer.
An example of a shock is the sudden movement of an earthquake.
An example of a shock is the sudden death of someone.
---
shock
the impact of persons, forces, etc. in combat or collision

a sudden, powerful concussion; violent blow, shake, or jar: the shock of an earthquake
the result or effect of such concussion

any sudden disturbance or agitation of the mind or emotions, as through great loss or surprise
something causing this

an extreme stimulation of the nerves, muscles, etc. accompanying the passage of electric current through the body
shock absorber

Med.

a disorder resulting from ineffective circulation of the blood, produced by hemorrhage, severe infection, disturbance of heart function, etc., and characterized by a marked decrease in blood pressure, a weak, rapid pulse, decreased kidney function, etc.
Origin of shock
French
choc
from
choquer
: see shockthe transitive verb
to disturb the mind or emotions of; affect with great surprise, distress, disgust, etc.
to affect with physical shock
to produce electrical shock in (a body)
Origin of shock
MFr
choquer
, prob. < MDu
schokken
, to collide < IE *
skeug-
, to push, shoot, var. of base *
skeub(h)-
, shove
Archaic

to come together violently; collide
to be shocked, distressed, disgusted, etc.: she doesn't shock easily
Informal
of or characterized by content that is intentionally shocking, offensive, vulgar, etc.:
shock art, shock radio
a pile of grain sheaves, as of corn or wheat, stacked together on end to cure and dry
Origin of shock
Middle English
schokke
, probably via Middle Dutch or Middle Low German
schok
from Indo-European an unverified form
(s)keug-
from base an unverified form
keu-
, to bend, arch from source Russian
ku?a
, a pile, heap: basic sense, "rounded heap"
to gather and pile in shocks
a thick, bushy or tangled mass, as of hair
Origin of shock
from uncertain or unknown; perhaps shock
---
shock
noun
A violent collision, impact, or explosion, or the force or movement resulting from this: The shock of the explosion blew out windows of every building on the street.

a. Something that suddenly causes emotional distress: The news of his death was a shock to all of us.

b. A sudden feeling of distress: The shock of the news has not yet worn off.

A massive, acute physiological reaction usually to physical trauma, infection, or allergy, characterized by a marked loss of blood pressure, resulting in a diminished blood flow to body tissues and a rapid heart rate.
The sensation and muscular spasm caused by an electric current passing through the body or a body part.
A sudden economic disturbance, such as a rise in the price of a commodity.
A shock absorber.
verb
shocked, shock·ing, shocks
verb
transitive
To surprise and disturb greatly: We were shocked by his admission of wrongdoing.
To induce a state of physical shock in (an animal or person).

a. To subject (an animal or person) to an electric shock.

b. To administer electric current to (a patient) to treat cardiac arrest or life-threatening arrhythmias.

c. To administer electroconvulsive therapy to (a patient).
verb
intransitive
Archaic
To come into contact violently, as in battle; collide.
Origin of shock
French
choc
from
choquer
to collide with
from
Old French
chuquier
perhaps of Germanic origin
noun
A number of sheaves of grain stacked upright in a field for drying.
A thick heavy mass: a shock of white hair.
transitive verb
shocked, shock·ing, shocks
To gather (grain) into shocks.
Origin of shock
Middle English
shok
shock2
---
shock

Noun
(plural shocks)
Sudden, heavy impact.

The train hit the buffers with a great shock.

(figuratively) Something so surprising that it is stunning.
Circulatory shock, a life-threatening medical emergency characterized by the inability of the circulatory system to supply enough oxygen to meet tissue requirements.
A sudden or violent mental or emotional disturbance

(mathematics) A discontinuity arising in the solution of a partial differential equation.
Verb
(third-person singular simple present shocks, present participle shocking, simple past and past participle shocked)
To cause to be emotionally shocked.

The disaster shocked the world.

To give an electric shock.
Origin
From Middle Dutch schokken ("to push, jolt, shake, jerk") or Middle French choquer ("to collide with, clash"), from Old Dutch *skokkan ("to shake up and down, shog"), from Proto-Germanic *skukkanÄ… ("to move, shake, tremble"). Of uncertain origin. Perhaps related to Proto-Germanic *skakanÄ… ("to shake, stir"), from Proto-Indo-European *(s)kAg'-, *(s)keg- ("to shake, stir"); see shake. Cognate with Middle Low German schocken ("collide with, deliver a blow to, move back and forth"), Old High German scoc ("a jolt, swing"), Middle High German schocken (German schaukeln, "to swing"), Old Norse skykkr ("vibration, surging motion"), Icelandic skykkjun ("tremuously"), Middle English schiggen ("to shake"). More at shog.
Noun
(plural shocks)
(commerce, dated) A lot consisting of sixty pieces; a term applied in some Baltic ports to loose goods.
Verb
(third-person singular simple present shocks, present participle shocking, simple past and past participle shocked)
To collect, or make up, into a shock or shocks; to stook.

to shock rye
---