show

show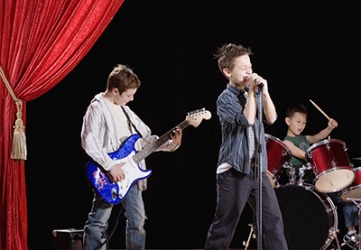 The boys were a favorite to win the top prize in the school talent show.
adjective
Show describes something related to a performance.

An example of show is a ticket that admits you into a Broadway performance; a show ticket.
noun
The definition of a show is a demonstration, display, or performance.

An example of a show is a someone presenting how a new kitchen gadget works.
An example of a show is a display of an artist's work in a gallery.
An example of a show is a concert.
verb
Show is defined as to bring into view, teach, or display.

An example of show is bringing a present from behind your back to give to someone.
An example of show is teaching someone how to use Microsoft Word.
An example of show is displaying your prize orchids at the state fair.
---
show
transitive verb
showed

,

shown

or

showed

,

show′ing
to bring or put in sight or view; cause or allow to appear or be seen; make visible; exhibit; display

to enter (animals, flowers, etc.) in a competitive show
to exhibit (paintings, sculpture, etc.), as in a gallery

to guide; conduct: to show a guest to a room
to direct to another's attention; point out: to show the sights to visitors
to reveal, manifest, or make evident (an emotion, condition, quality, etc.) by behavior or outward sign
to exhibit or manifest (oneself or itself) in a given character, condition, etc.: to show oneself to be reliable
to open (a house, apartment, etc.) to prospective buyers or renters
to make evident by logical procedure; explain or prove: to show that something is right
to make clear by going through a procedure; demonstrate: to show how to tie a bowknot
to register; indicate: a clock shows the time
to grant or bestow (favor, kindness, mercy, etc.)

Law

to allege; plead: to show cause
Origin of show
Middle English
schewen
from Old English
sceawian
, akin to German
schauen
, to look at from Indo-European base an unverified form
(s)keu-
, to notice, heed from source Classical Latin
cavere
, to beware, Old English
hieran
, to hear
to be or become seen or visible; appear

to be apparent or noticeable: a scratch that hardly shows
to be visibly pregnant: five months pregnant and still not showing

to have a given appearance; appear: to show to good effect
to finish third or better in a horse race or dog race

Informal

to come or arrive as expected; make an appearance

Theater

to give a performance; appear
a showing, demonstration, or manifestation: a show of passion
a display or appearance, specif. a colorful or striking one
spectacular, pompous display; ostentation
an indication of the presence of metal, coal, oil, etc. in the earth; trace
something false or superficial; semblance; pretense: sorrow that was mere show
a person or thing looked upon as peculiar, ridiculous, laughable, etc.; spectacle; sight
a public display or exhibition centered around a particular activity or industry: a trade show
a presentation of entertainment, as a theatrical production, TV program, film, etc.
third position at the finish of a horse race or dog race

Informal

any undertaking, matter, or affair
of or having to do with a show (noun or ), specif. a Broadway or Hollywood musical: a medley of show tunes
for show
in order to attract notice or attention
get the show on the road
Informal
to set things in operation; start an activity, venture, etc.
good show!
Chiefly Brit.
an exclamation of appreciation and congratulations on another's accomplishment
show someone in (or out)
to usher someone into (or out of) a given place
show off
to make a display of; exhibit in a showy manner
to behave in a manner intended to attract attention
show up
to bring or come to light; expose or be exposed, as faults
to be clearly seen; stand out
to come; arrive; make an appearance
show someone up
Informal
to behave in a way that deliberately calls attention to the failure or shortcoming of (a rival, opponent, etc.)
stand a show
Informal
to have a chance, esp. a remote one
steal the show
to become the main focus of attention, plaudits, etc., esp. if in a subordinate role or position
---
show
verb
showed, shown,
or
showed
show·ing, shows
verb
transitive
a. To cause or allow to be seen; display: showed us his tattoo.

b. To display for sale, in exhibition, or in competition: showed her most recent paintings.

c. To permit access to (a house, for example) when offering for sale or rent.

To conduct; guide: showed them to the table.
To direct one's attention to; point out: showed them the city's historical sites.

a. To make evident or reveal (an emotion or condition, for example): showed displeasure at his remark; a carpet that shows wear.

b. To reveal (oneself) as in one's behavior or condition: The old boat showed itself to be seaworthy.

c. To indicate; register: The altimeter showed that the plane was descending.

a. To demonstrate by reasoning or procedure: showed that the hypothesis was wrong; a film that showed how to tune a piano.

b. To demonstrate to by reasoning or procedure; inform or prove to: showed him how to fix the camera; showed her that it could really happen.

To grant; bestow: showed no mercy to the traitors.
verb
intransitive
To be or become visible or evident: Concern showed in his face.
Slang To make an appearance; show up: didn't show for her appointment.

a. To be exhibited publicly: What's showing at the movie theater tonight?

b. To give a performance or present an exhibition: Which artist is showing in the gallery?

Sports To finish third or better in a horserace or dog race.
noun
A display; a manifestation: made a show of strength.

a. A trace or indication, as of oil in a well.

b. The discharge of bloody mucus from the vagina indicating the start of labor.

c. The first discharge of blood in menstruation.

A false appearance; a pretense: only a show of kindness.

a. A striking appearance or display; a spectacle.

b. A pompous or ostentatious display.

Display or outward appearance: This antique tea service is just for show. His smile was for show.

a. A public exhibition or entertainment.

b. An exposition for the display or demonstration of commercial products: an auto show.

c. A usually competitive exhibition of domestic animals: won first place at the cat show.

a. A radio or television program.

b. A movie.

c. A theatrical troupe or company.

Informal An affair or undertaking: ran the whole show.
Sports Third place at the finish, as in a horserace.
Phrasal Verbs:
show off
To display or behave in an ostentatious or conspicuous way.
show up
To be clearly visible.To put in an appearance; arrive:
Don't show up late.
To expose or reveal the true character or nature of:
showed their efforts up as a waste of time.
Informal
To surpass, as in ability or intelligence:
She shows up all the others in the chorus.
Origin of show
Middle English
sheuen, shouen
from
Old English
scēawian
to look at, display
---
show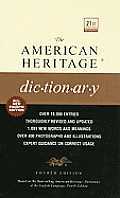 show
display
expose
parade
exhibit
flaunt
These verbs mean to present something to view.
Show
is the most general:
"She hated to show her feelings"
(John Galsworthy).
Display
often suggests an attempt to present something to best advantage:
The dealer spread the rug out to display the pattern.
Expose
usually involves uncovering something or bringing it out from concealment:
The excavation exposed a staggering number of artifacts.
The term can often imply revelation of something better left concealed:
Your comment exposes your insensitivity.
Parade
usually suggests a pretentious or boastful presentation:
"He early discovered that, by parading his unhappiness before the multitude, he produced an immense sensation"
(Thomas Macaulay).
Exhibit
implies open presentation that invites inspection:
"The works of art, by being publicly exhibited and offered for sale, are becoming articles of trade"
(Prince Albert).
Flaunt
implies an unabashed, prideful, often arrogant display:
"Every great hostelry flaunted the flag of some foreign potentate"
(John Dos Passos).
See Also Synonyms at
appear
.
---

---